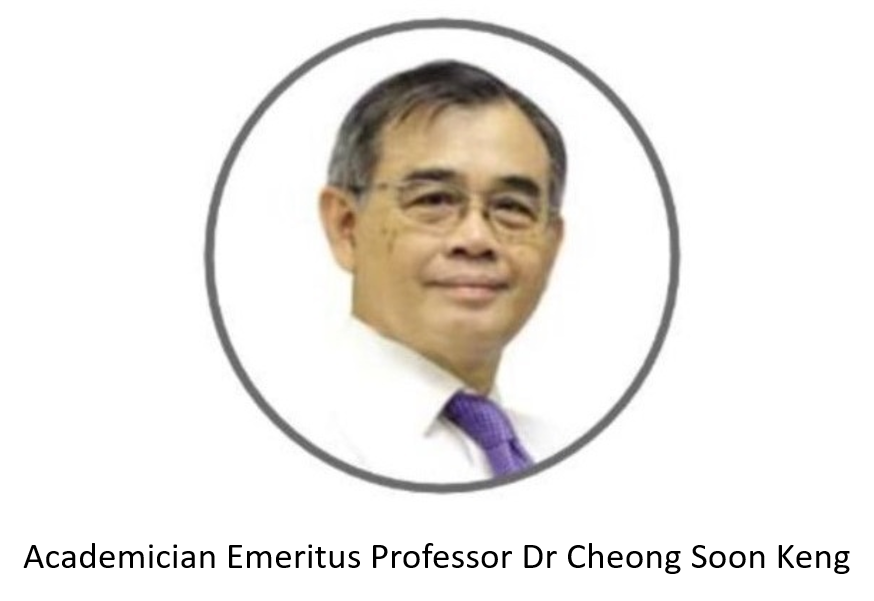 Academician Emeritus Professor Dr Cheong Soon Keng was appointed 2021 Senior Fellow of the Academy of Sciences Malaysia in recognition of his leadership in medical education and research, particularly in haematology and stem cell transplantation.
The 2021 Senior Fellows and Fellows were elected and appointed at the Academy of Sciences Malaysia's 26th Annual General Meeting on 24 April 2021.
According to The Academy of Sciences Malaysia, a Fellow is an individual with outstanding achievement and contribution in the areas of science, engineering, technology or social sciences and humanities. Fellows are elected for life based on their scientific and scholarly achievements and are regarded as being of exceptional merit and distinction.
The criteria of appointment as Senior Fellows in the Academy of Sciences Malaysia are as follows:
Outstanding individual achievements or outstanding leadership in science, engineering and technology.

Innovative achievements or development of high technology industries or technological industries or technological operations within non-technological industries, or of Government or non-Government organisations (NGOs) dealing with issues relating to science, engineering and technology.

Outstanding contributions in the areas of science, engineering and technology that have benefited the community and mankind.

Outstanding contributions to ASM during their tenure as Fellows by being actively involved in ASM activities and mission.

Outstanding contributions at international level and outstanding individual recognition for achievements and contributions internationally in the fields of science, engineering and technology.
Prof Cheong has been involved in research on stem cells for many decades. In early 2000, Prof Cheong became interested in Mesenchymal Stem Cells (MSCs) found in the human bone marrow, MSCs were first isolated and developed in his laboratory for clinical use for the first time in Malaysia. These MSCs are now undergoing clinical trials in collaboration with industry partners.
In the 2010s, Prof Cheong's research group in UTAR was the first to generate Induced Pluripotent Stem Cells (iPSC) in Malaysia. This technology was first reported in 2006 and the discoverer, Dr Shinya Yamanaka was conferred the Nobel Prize in 2012. Prof Cheong's research group was able to generate iPSC-cancer cell lines for disease modelling and drug discovery. iPSC-cancer cell lines successfully generated included the iPSC-myeloid leukaemia, iPSC-osteosarcoma, iPSC-oral squamous cell carcinoma, and iPSC-colonic carcinoma. Using virus-free, serum-free techniques, the research group was also able to establish clinical-grade, GMP-compliant normal iPSC cell lines from normal skin cells and haemopoietic stem cells. These mother cells can be used for future differentiation into the intended mature cell type for regeneration and repair. These generated IPSC clones are now cryopreserved in liquid nitrogen tank and being trade-marked for distribution purpose from 2020.
Prof Cheong's career in Malaysia started when he returned from the UK in 1980 and joined Universiti Kebangsaan Malaysia (UKM). He was the sole clinical haematologist providing clinical service under UKM to Kuala Lumpur General Hospital for 17 years until the establishment of Hospital UKM in 1997 where he continued his medical professional practice. He was responsible for setting up the clinical haematology services in the new UKM teaching hospital at Bandar Tun Razak, Cheras. He also introduced the first haematology and oncology day care centre which was established in 1997. The concept of day care was so successful that this service was subsequently emulated by other specialties.
He was instrumental in setting up the PPUKM-MAKNA Cancer Centre, which was established in 1998, a collaboration between UKM and MAKNA which continues to date. He was Head of the Centre until his retirement from UKM and continues to support the collaboration as Vice-President of MAKNA.
The first haemopoietic stem cell transplantation for hospital UKM was carried out in 1999. Prof Cheong pioneered a new approach in stem cell transplantation using peripheral blood stem cells rather than the bone marrow, and the non-myeloablative conditioning regimen. This approach has extended the age limit of the recipients of transplantation from the standard 45 years as a cut off, benefitting the elderly patients up to 65 years or more. Today, the transplant centre in HUKM continues to conduct about 20 transplants a year with support from MAKNA. Since its inception, the centre, which is now known as Cell Therapy Centre, has successfully conducted more than 300 transplants. After retirement from UKM, Prof Cheong continues to participate in cell-based clinical trials carried out in this centre, until today.
Professionally, Prof Cheong has numerous notable accomplishments. In 1994, he was one of the Founding Council Members of the National Cancer Council (MAKNA), a not-for-profit charity organisation, setup up to fight cancer and help cancer patients. He was elected in 1997 as Vice-President of MAKNA and has been holding this post since then.
He was also responsible for the research arm of MAKNA. More than RM 15 million had been dispersed over 2 decades to support research programmes undertaken by different research groups nationwide. In 2001, the MAKNA Cancer Research Award for young scientists below the age of 40 years was established in collaboration with the Academy of Sciences of Malaysia. To date, many young scientists (more than 60) has been funded through this scheme. He also regularly assists in the dispersal of fund from a bursary programme to needy cancer patients to help them overcome financial hardship and purchase expensive equipment or non-formulary drugs needed for cancer treatment.
Prof Cheong retired from Universiti Kebangsaan Malaysia (UKM) in 2005 while holding the post of the Founding Head of the Laboratory Diagnostic Services, as well as Founding Head of the Clinical Haematology & Haemopoietic Stem Cell Transplant Services of the UKM Medical Centre. In 2007, he was conferred Emeritus Professor by UKM.
In 2008, he was elected as President of the College of Pathologists, Academy of Medicine of Malaysia (CPathAMM). He initiated the International Congress of Pathology & Laboratory Medicine which is now held biennially. He had also established the MCPath QAP Sdn Bhd under the College in 2013 to provide external quality assurance programme (McQAS) for diagnostic pathology laboratories and support the national drive for laboratory accreditation under ISO15189, which is still voluntary at this stage.
In 2009, Prof Cheong was invited to be the Founding Dean of UTAR Faculty of Medicine & Health Sciences, a post he has held until now.
In 2011, he was elected as Fellow of the Academy of Medicine, Singapore (FAMS), and Founding Fellow of the Faculty of Sciences for clinical scientists, Royal College of Pathologists of Australasia (FFScRCPA).
In November 2017. Prof Cheong was appointed by the Minister of Health as an Appointed Member of the Malaysian Medical Council, which is a corporate entity under the revised Medical Act 1971 and the regulator of the medical profession. In August 2018, he was further appointed as Chairman of the Preliminary Investigation Committee 2 which looks into the complaints by the public against the doctors.
UTAR congratulates Prof Cheong on this significant appointment and wishes him even greater successes and achievements in the years ahead.